What an extraordinary and enjoyable time I've been having viewing black and white photographs! The' extraordinary' being the venues as much as the works.
With my Art Fund Card in my pink gloved mitt, off I went to join my lovely friend Leigh to view Bailey's 'outstanding contribution to photography and the visual arts, creating consistently imaginative and thought-provoking portraits.' (taken from NPG handout).
There is room after room of photographs, beautifully hung, some high up like the old-style Royal Academy, very effective as some of the rooms are tall and thin. The photographs are well spaced, large and impressive enough to make an impact even on high. There are also coloured prints.
When I think of Bailey I always draw on the film 'Blow-Up' by Carlo Ponti, starring David Hemmings, Vanessa Redgrave and Sarah Miles. I'm sort of stuck there! So my favourites tend to be from the 60s and 70s, Jean Shrimpton, Penelope Tree, Rolling Stones, Beatles et al. Bailey's work of course extends well beyond those decades and he has travelled to far flung places, without the five star comforts to create intimate and often disturbing portraits. See Blow-Up trailer https://www.youtube.com/watch?v=Zu0-keZ4KKY
It is one of those exhibitions that seems never-ending, in this case it is a good thing, the work holds your interest and you are keen to go forward as each room reveals more and more.
The showcases in the final space are fascinating. For the curious it is irresistable. Personal notes, scribbles, LP covers, letters, school reports all sorts of emphemera. My special favourite is a photograph of Bailey as a young man in the army based in Singapore. Seek out his special dispensation at meal times! I was surprised the army in the 50s countenanced it. He must have also been there about the same time as my Father, that's another story entirely.
Go see. The only downside is the shop, expensive, but as my wiser companion told me, 'wait until the exhibition closes, then there will be a sale.' I did however leave with a beautiful postcard of the divine Miss Shrimpton.
On until 1st June 2014.
Miss B & Miss C dined out at Les Deux Salons, 40-42 William Street, Covent Garden, London WC2N 4DD.
An excellent lunch in a charming and sophisticated restaurant with the largest pots of tea I've seen recently. Good value. http://www.lesdeuxsalons.co.uk/
Tower Bridge Exhibition – 'The Sixties' – showcase of Cultural Icons of the 1960s
Here I met up with Miss Shrimpton again (by Bailey of course)!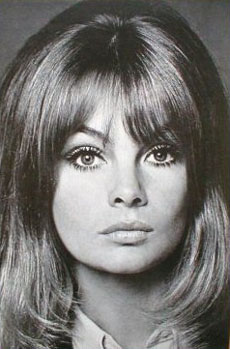 Jean Shrimpton
This picture does not appear in the exhibition.
I must confess I had never visited the most famous bridge in the world before so it was a very exciting moment and did not disappoint, all that iron and construction.
The display of photographs can be found on the impressive West Walkway, 42m above the Thames with stunning views across London. The space is for hire.
West Walkway
View from West Walkway towards St Pauls
Tower Bridge was designed and created by Sir Horace Jones and engineer Sir John Wolfe Barry, it took eight years to complete and was officially opened on 30 June 1894 by the future King Edward VII and Queen Alexandra, the then Prince and Princess of Wales.
Peter Cook & Dudley Moore
(c) Brian Forbes - 'The Wrong Box'
'The Sixties'
Exhibition was opened by the lovely Nanette Newman, famous actress and author, also wife of Brian Forbes whose work features in the display - a rare still of Peter Cook and Dudley Moore taken from the 'The Wrong Box'. One of the Sixties generation herself this lady still looks wonderful.
Nanette Newman on the right with John Scott JP, Chairman of Culture, Heritage
and Libraries Committee, City of London with wife Claire.
The exhibition is small but perfectly formed and David Wight, Visitor Development and Services Director, City of London Corporation, comments:"This enjoyable and entertaining new photographic exhibition offers a wonderful insight into this exciting decade. Whether you lived through the period yourself or weren't yet born, this exhibition will definitely spark a lifelong fascination with the people and times of the 'Swinging Sixties'." The added bonus is the captions are in French, German, Spanish and Italian.
David Wight - photograph 1971 and now
Special thanks to the Twitterati who turned out in force and Chantelle Scullion of Seasoned Events for organising the great cocktails and canapes, including Babycham and prawn cocktails. Also Aneela Rose and Francesca Collin from Aneela Rose PR who continue to do great work for the City of London.
Twiggy and lady with lovely bob
Mary Quant
Sara Pink - Head of Guildhall & City Business, City of London
and MissB
Back to the National Portrait Gallery but not to central London.
Hampstead's Village People: Portraits of Cultural Icons
- Fenton House, Hampstead Grove, London NW3 6SP (National Trust)
An exhibition in partnership with the NPG and the NT celebrating famous Hampstead residents at Fenton House, the heart of the area's cultural life since 1686. Hampstead seems to have always drawn the creative folk, amongst the most famous, John Constable, George Romney and the poet Keats. Even today it is favoured by the likes of Michael Hopkins (architect) and Helena Bonham Carter (actor) and many more. So as it ever was and is likely to remain, the exhibition of black and white photographs is testament to that.
The photographs are drawn from vintage prints as well as contemporary photographers and look and feel right in the large drawing room of Fenton House.
A punched and sheared
curtain detail
The house itself is described as 'a cabinet of curiosities' with something for everyone. Elegant interiors, ceramics, paintings, textiles and furniture plus an extraordinary collection of musical instruments. Also do take time to look out of the windows on the top floors, the views are stunning. Please look out for the George F Watts painting on the stairwell, and do not get confused, as I did (a senior moment), with William Nicholson's work and Ben Nicholson (who appears in one of his father's works). I thought Ben looked good for his age in his exhibition photograph!
From a room with a view - topiary delight!
If the house itself was not enough, the icing on the cake are the beautiful grounds, which include a 300 year old orchard, kitchen garden, formal terraces and lawns, and topiary – delightful. A haven of peace and tranquillity. It must be said though it is a great place for children to enjoy whilst minders take it in turns to visit the house. Take a picnic!
The ancient orchard with spring planting below
Idyllic - English country garden