(c) EmeryWalker.org.uk
7 Hammersmith Terrace a tall Georgian building on the River Thames from 1903-1933 it was the home of Sir Emery Walker, printer and collector, and great friend of William Morris.
The house is furnished with carpets, wallpapers and furniture from Morris & Co. it survives complete with personal mementoes, and is possibly the only intact Morris & Co interior of its kind in Britain. It has only recently been opened to the public because it remained a private home until 1999.
It was Emery Walker who encouraged and assisted William Morris with the setup of the Kelmscott Press.
The house is also full of artefacts of the pre Raphaelites era and beyond. Emry Walker went on to create his own printing company, the Doves Press with T J Cobden-Sanderson. The dove watermark was drawn by Cobden-Sanderson and Walker created a special type, later destroyed. A sad and interesting tale which will be revealed when you visit No. 7.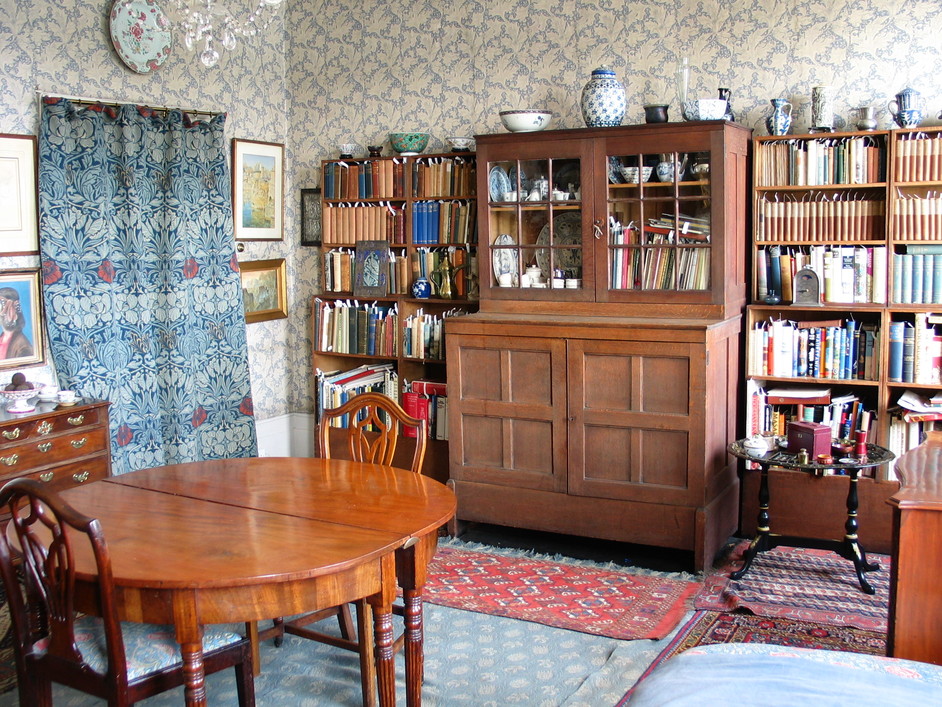 (c) LondonTown.com
·
Furniture and glass by Philip Webb (architect of the Red House) and partner in Morris & Co.
·
Hangings and other textiles by William Morris
·
Textiles by his daughter May Morris, who lived a 8 Hammersmith Terrace
·
Ceramics by William de Morgan (also created the first tiles for the G F Watts memorial in Postman's Park)
·
Cotswold furniture by Ernest Gimsom and Ernest Barnsley
·
A Burne-Jones pencil portrait of May Morris
Photograph of May Morris
The house also includes objects collected by the occupants during their travels around Europe and the Middle East.
Tours are available but restricted in size and you have limited access within the rooms. The talk at the beginning was overlong during our visit, so beware if you are not good at standing for long periods. However it is well presented and very interesting. You also get a visit of the beautiful garden, where you can have a quick sit down.
Back garden at No. 7
(c) EmryWalker.org.uk
The house is run by the Emery Walker Trust and is a registered charity.
Tours last approximately one hour. Three tours on Saturdays and you need to book via the web site.
There are lovely souveniers to purchase but cash only, be prepared.
Rear of No 7
May Morris lived next door at No. 8
View of River towards Richmond
View of River towards Hammersmith Bridge